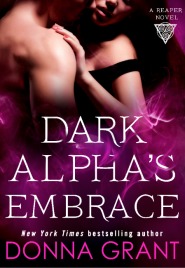 Blurb:

An exclusive new series from New York Times bestselling author Donna Grant!
There's no escaping a Reaper. I'm an elite assassin, part of a brotherhood that only answers to Death. And when Death says your time is up, I'm coming for you...
I'm a warrior. My unbreakable determination, my backbone of steel define me. As a Reaper who does Death's bidding, weakness is a word I don't understand. Until a stunning librarian stirs emotions deep within me I've never felt before. Her soft curves blunt the sharp edges of my soul, crushing my defenses - yet make me stronger. But underneath those wide eyes and fierce femininity, she has a weapon, one she won't hesitate to use. And when the Dark begin their deadly descent, we'll need each other's love and protection...or risk fracturing apart.
Available for purchase at
River's gaze was locked with Kyran. She'd seen many Fae over the years, but there was something fascinating and absorbing about this Dark that made her heart race – from something other than fear. If only she could lay her finger on what it was.
She knew what the Dark Fae did to humans, how they had sex with them, giving the humans ultimate pleasure. And all the while the Dark drained them of their souls. It was a horrendous way to die.
But Kyran seemed different. She didn't get a vibe of evil from him despite his hair and eyes. All Dark had red eyes and silver in their black hair. Despite what he was, she couldn't deny his attraction. Perhaps it was the way he held her gaze, looking at her as if he couldn't get enough.
Her stomach quivered, and she moved a half step closer, even as her mind warned her to keep her distance. But she couldn't. She had to get nearer.
He didn't look away. With a simple look, he invited her to get closer. It was a temptation she wasn't sure she could refuse.
Kyran stretched his legs out and crossed them at the ankles. "You're needed, River. It's not by accident that you know what you do about the Fae and were put in our path. You're destined to aid us in this."
When she didn't respond, he tried again. "Think of all the innocents, like your family and Jordyn's, who were killed. You have a chance to help us put an end to such things for everyone. The half-Fae will no longer need to fear for their lives. And I promise you I'll figure out who has hunted your family and end it."
Her resigned look cut through him. "You can't do that. You work for Death. I doubt you'll be given leave to help me."
"Let me deal with that. Whether you help me or not, I'm going to find out why the Dark are hunting your family. And then I'm going to make sure it never happens again."
River swung her gaze to him. She tucked a long length of hair behind her ear. "Do I have your word you'll stop whoever is after me?"
"Aye." Kyran held out his hand.
River stared at it a moment before she leaned up and took it. They shook, her small hand in his. "Then I'll help you."
Reaper #1
Available for purchase at
Donna Grant
is the New York Timesand USA Today bestselling author of the sizzling Dark King series featuring dragons, immortal Highlanders, and the Fae.
She was born and raised in Texas but loves to travel. Her adventures have taken her throughout the United States as well as to Jamaica, Mexico, and Scotland. Growing up on the Texas/Louisiana border, Donna's Cajun side of the family taught her the "spicy" side of life while her Texas roots gave her two-steppin' and bareback riding.
Despite deadlines and voracious reading, Donna still manages to keep up with her two children, four cats, and one long haired Chihuahua.
You can find Donna at
Presented By